The Castle Event Center… for all your social, corporate, party & meeting needs!
Whether you are planning a larger private party, meeting or extravagant event to celebrate a special occasion, our beautiful venue can accommodate ALL of your party, event, celebration or corporate needs.
Jesters Restaurant & Pub:
If you are looking for a smaller, more casual adult party or company outing in Jesters Restaurant & Pub, complete with full bar and craft beers on tap, please click here for information on our All Access Party Option!
Our Event Center is an ideal venue for Reunions, Company Picnics, Business Meetings, Family Celebrations and more!
Event Center Highlights & Uses
Castle Activities, Entertainment, Full Customized Catering, Bar and A/V Options are available for all Events!
All catering done in-house by Jesters Restaurant.
Celebrations: Graduation, Wedding, Bar/Bat Mitzvahs, Milestone Birthdays, Anniversary, Family Reunions, Sweet 16's
Companies: Meetings, Presentations, Trade Shows, Networking, Team Building, Company Picnics, Awards Ceremonies, Product Launchings
And more: Car Shows, Class Reunions, Luncheons, Banquets and Galas
The Event Center... Event Room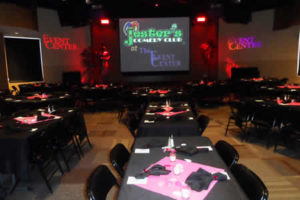 The Event Center is the perfect venue for Business Meetings, Product Launches, Trade Shows, Award Ceremonies, Banquets, Class Reunions, Sweet 16's, Bar/Bat Mitzvahs, Reunions, Weddings, Dance Parties, CD Release Parties, Concerts, Video Shoots & more!
The Event Center Event Room is a 5,000 square-foot room complete with stage, 180″ HD projection screen, professional lighting & sound system, conference room and full bar.
Extensive A/V technology options are available. We can cater ANY event and customize ANY menu for your event.  Weekend availability for the Event Room is after 6 pm.
Event Room Capacity
200 guests with dinner seating
150 guests arranged classroom style
400 guests arranged theater style
The Event Center... Event Grounds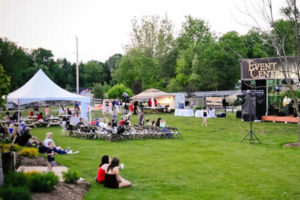 The Event Center Event Grounds are the perfect location for your Family or Class Reunion, Company Picnic, Wedding, Car Shows and more!
Our Event Grounds are seasonally available for your outdoor events with picnic menus, patio, audio capabilities and entertainment options! Amenities include Tented Patio with Picnic Tables, Picnic Activity Area, Bocce Ball, Horseshoe Pit and Volleyball.
Event Center Grounds Capacity
75 to 700+ people for Picnic Package Available
The Event Center Event Room and Event Grounds are an impressive venue to hold ANY function!