The Castle Fun Card Information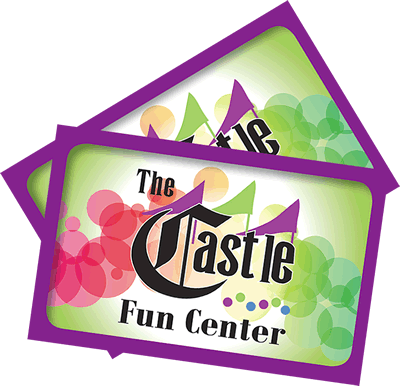 All attractions at The Castle Fun Center require the use of a Castle Card for payment.
Conveniently purchase any dollar amount to put on your card. After loading your card with credits, simply swipe your card for each attraction (including arcade games!). Cost of attraction and arcade games will be deducted from the card's balance.
Save time for future visits!
Recharge your Castle Card for your next fun day of Attractions and Entertainment at the Castle Fun Center.
Our hours of operation change seasonally, please check current hours below. During the school year, we do offer special hours during school holidays where the majority of our local Orange County, NY schools have off, these dates will be listed on our calendar of upcoming events which can be found here Upcoming Events.  Skate sessions differ from our hours of operation, please click here for Skate Session hours.
Summer Hours (6/21/18 thru 9/4/18)
Sunday to Thursday: 10 a.m. – 11 p.m.

Friday & Saturday: 10 a.m. – Midnight.
September to April (begin 9/5/18)
Mondays and Tuesdays: Closed
Wednesday & Thursday: 3 p.m. – 8 p.m.
Friday: 3 p.m. – 10 p.m.
Saturday: 10 a.m. – 10 p.m.
Sunday: 10 a.m. – 9 p.m.
Please check our school holiday calendar for Spring Break and other Holiday hours.
May & June
Summer hours begin last day of school
Monday to Thursday: 3:00* p.m. – 9:00 p.m.
Friday: 3:00* p.m. – 11:00 p.m.
Saturday: 10:00 a.m. – 11:00 p.m.
Sunday: 10:00 a.m. – 9:00 p.m.